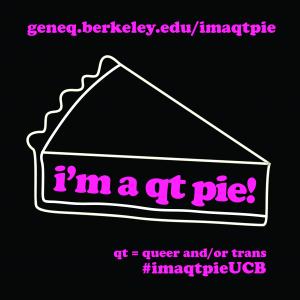 Our queer and/or trans (QT) communities are made up of beautiful, amazing QT pies!  #imaqtpie is a way to recognize, celebrate, appreciate, and empower our identities.  
Queer and/or trans people often receive messages that tell us who we are, what we look like or who we love is wrong, weird, disgusting and worse.  These messages aren't always blatant homophobic or transphobic speech or actions, they are also conveyed in more subtle ways that nonetheless take their toll on how we see ourselves and what we feel we are worth.  With these negative messages surrounding us we need to make sure we have postitive messages that are powerful and persistent to provide a counterbalance.  
#imaqtpie is an act of self-love and proclamtion to all QTs that we are beautiful and amazing.
#imaqtpie is an act of resistance against those who try to tell us otherwise.
QT Pie: A Queer, Trans, LGBTQ+ Welcome Event
Wednesday, August 30, 2017
5:30-8:30pm
Multicultural Community Center
MLK Jr Student Union
Come for new friends, resources, connections to academics and student groups, and pie! QT (Queer and/or Trans) Pie is pronounced "cutie pie," and is both the title of our welcome event and a way of affirming that our queer and/or trans communities are made up of beautiful, amazing, QT Pies!  #imaqtpieUCB
Questions? Contact Billy at billyc@berkeley.edu or Amir at director@ucbqarc.org
Sponsored by the Gender Equity Resource Center (GenEq), the Queer Alliance and Resource Center (QARC), and the UNITY Theme Program with the support of a great planning committee. This event is wheelchair accessible. For disability-related accommodations please see access.berkeley.edu.